Over a year ago, we created a WordPress plugin for mosques that wanted to display their MasjidNow times on their WordPress websites.
Since then, we've constantly been adding features and updating the plugin to keep our customers happy and to make sure
MasjidNow was delivering timings in the best way possible.
We also received many requests for a timings plugin for non-WordPress installations – sites that used Joomla!, DotNetNuke, Drupal, etc.
Unfortunately, we didn't have enough resources to keep plugins up-to-date for all of these different frameworks. Until now.
Introducing our new HTML Embed code – designed to work with any website!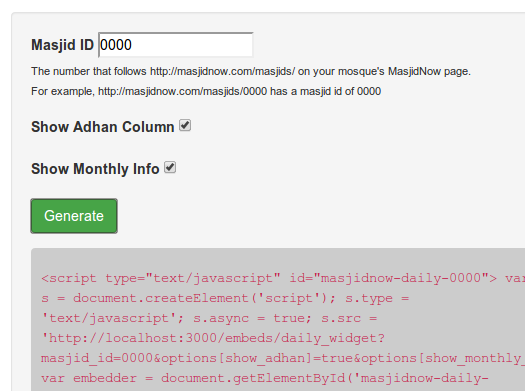 You can use our handy embed code generator to create the embed code for your mosque. There are all sorts of options you can fiddle with, too, with many more coming soon, inshaAllah. Just press `Generate` when you're done, and you can copy and paste the created code anywhere on your website that accepts HTML. You'll also see a live preview of what the widget will look like on your website – don't worry, it will adapt to the color scheme of your website too.
We hope this will help our customers who don't have WordPress websites expand to using our MasjidNow services.
Suggestions, questions, or comments? Let us know what you think in the comments section below.