Importing jamaat and adhan timings to your mosque's website can be a time-consuming and difficult process.  Even with MasjidNow's relatively painless copy-paste timings feature, there were still sometimes issues with timings being not imported correctly.
To remedy this problem, and make it *even easier* to save your jamat (congregation) timings to MasjidNow, we created a new feature: Timings Spreadsheet Import.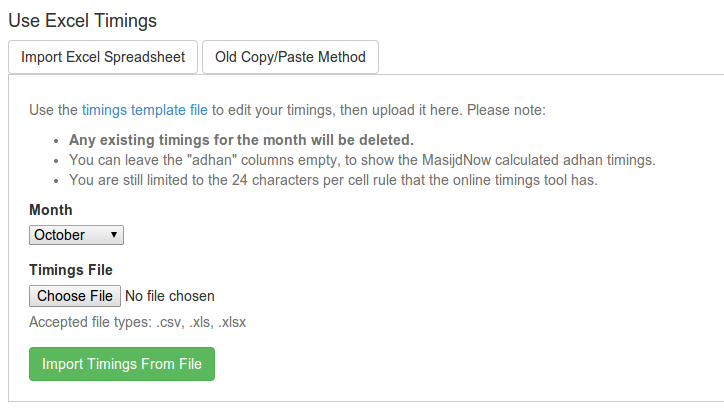 It is immediately available to all of our registered mosques.  Simply download the provided timings template file, and add your adhan and iqamah timings to the proper columns. Then, visit the "Edit Timings" page of your MasjidNow account, and upload your mosque's prayer times in an instant.  You can still adjust the timings once they've been imported, as well as add monthly information and customize the hijri date as you're used to. Of course, the timings and information will immediately be available on your mosque's website, and our prayer timings apps.
Existing users can sign in to their mosque account and download the prayer timings template from their masjid's "Edit Timings" page.
If you aren't a user of MasjidNow, what are you waiting for? Sign up for a free masjid account now, and get your prayer timings and mosque information on our mobile apps, your website, and MasjidNow's global mosque database.