We recently upgraded the look and feel of prayer timings editor on our website.  We felt that the editor page was confusing for new users, and gave off an "information overload" vibe.  We recently discovered that it was missing a tiny bit of key information as well.
Each month now has easy to see separators for weeks, since we know many mosques have different timings for the weekend vs the week, or special timings on Friday.  For example, Houghton Masjid near Johannesburg, South Africa, one of our first customers, has different Dhuhr timings on the weekends as compared to Monday – Thursday.
We also made some changes to how the salah names show in the editor.  Before, the headings were visible above every row.  We decided that this was a waste of valuable space and contributed to the overall "complicated" look of the editor.  Now we only show the headers before each Monday of the month.  Finally, we realized that the day of the week wasn't shown for each day – that has been fixed as well.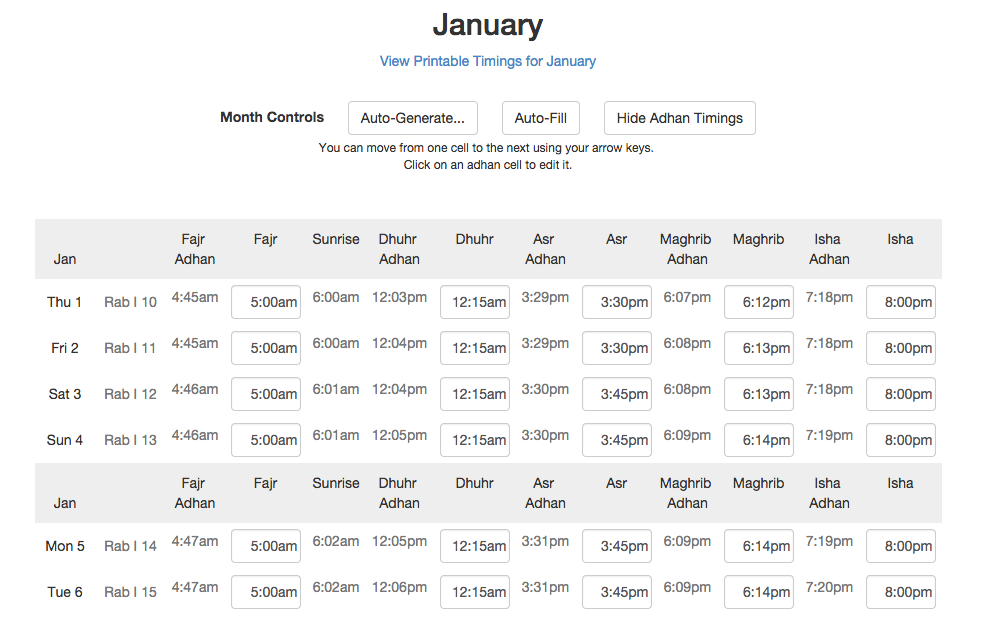 Although these changes seem minimal, we hope this makes editing and saving prayer timings for your masjid even faster and easier.  All of our users can now enjoy the updated editor. If you have any suggestions as to how we can further improve the editor, be sure to email us using the contact form on our website.  If you are not yet a MasjidNow user, you can sign up for free and create a prayer timings sheet for your mosque now.